CAMPBELL, Molly Elizabeth "Baby Molly"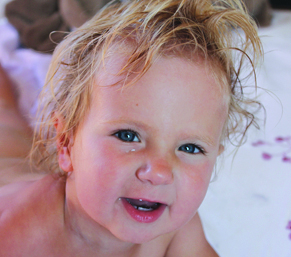 Born November 23, 2010, passed away July 10, 2013 at St. Jude Children's Research Hospital in Memphis, TN. Although far too brief, she lived an inspiring life. She will be deeply missed by her parents, David and Rebekah Campbell and her siblings, Emma, Owen, Kate and Sara. As well as all her extended family, cyber family and anyone who ever met her. She left an unforgettable impression on all those she met with her glowing smile and truly magnetic personality. The family wishes to express its gratitude to the Team at BC Children's Hospital and the Team at St. Jude Children's Research Hospital. Words will never be able to express just how grateful the Campbell's are to the entire Community of Victoria for their love and support over the past 2 and a half years. The Lord is close to the brokenhearted and saves those who are crushed in spirit. Psalm 34:18 Don't grieve for Molly as she is free and is as we remember her, a boisterous loving little girl who's eyes invited you into her heart and soul. Tribute Balloon Release to be held at Victoria Christian Reform Church on Saturday July 27th at 12:30pm. Please bring your own Pink (helium) Balloon. The family is requesting donations to BCCHF be made on Molly's tribute page in lieu of flowers. Heaven has gained a Beautiful Angel!
UPDATE on Molly
It is with heart crushing sadness that the friends of the Campbells have to announce that Molly's leukemia has relapsed. On November 6, 2012 Molly was running a fever and seemed lethargic, so Rebekah took her to the Victoria hospital while David watched Owen, Emma, Kate and Sara at home. The doctors advised the Campbells that their worst fears had come true. Molly's chimerism tests showed the leukemia cells have regenerated. Just as they had done two Christmas's ago, David and Rebekah said goodbye to their four other children and climbed in a helicopter with little Molly to be rushed to BC Children's Hospital in Vancouver. More sleepless nights away from their family await them.
David and Rebekah have been told that Molly requires intensive chemotherapy to try to get her back into remission again. Once again, the family has been torn apart, with Molly's brother and sisters here in Victoria staying with their grandparents, while David and Rebekah take care of Molly. David tells us the worst part this time is that little Molly is almost two, and terrified of the needles that have to be put in her spine for testing and treatment. She is old enough to ask her parents why this is happening, but not old enough to understand that the doctors are trying to help her. Watching this is agony for the Campbells.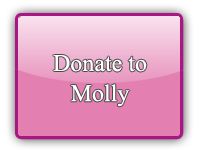 We are trying to raise money to help them make it through their difficult time in Memphis and the 8 to 10 months of treatment that will follow in Vancouver. The Campbells are agonizing over asking for your support once again but it is needed.
Any small donation helps, and relieves at least the financial stress of this family with five children. Molly's community is a big part of the reason this family survived the first battle with Leukemia; your love will get them through again.
Molly's Story

With two days to go before Christmas, Rebekah Campbell was doing what most parents do – shopping in Victoria for last minute stocking stuffers for her children. This was an exciting time for her, because Molly, her one month old baby, was about to have her first Christmas. Molly was born November 23, and had been the kind of happy, healthy baby. Rebekah had no idea the family's life was about to be turned upside down.
Rebekah noticed that Molly was running a fever and decided to take her home. By the time she got there, the fever was bad enough that Rebekah left the couples other four kids in the care of her husband Dave and rushed Molly to emergency. Molly's parents thought she might have the flu.
Like every trip to emergency, there was hours of waiting. Rebekah was tempted to take Molly home and give her some Tylenol, as she was concerned about how this was going to disrupt Christmas for the other children who were waiting at home with their dad. However, her motherly instincts kept her there all night with Molly. Dave went to the hospital as soon as a friend came to care for the other four children. Before leaving to the hospital, Dave packed a single change of clothes for Molly and Rebekah, as they had been told Molly would hopefully be home Christmas eve.
Once Molly was examined by doctors and the test results came back, however, Rebekah and Dave's nightmare began. Shockingly, at only 28 days old, Molly had Leukemia. Molly was diagnosed Christmas eve with Acute Lymphoblastic Leukemia, a cancer of the white blood cells that was rapidly filling her body.
Molly's condition was so serious that Victoria General Hospital could not treat her. Unlike other cancers, this leukemia was fast moving and immediately threatened tiny Molly's life. Less than a day after happily shopping for Christmas presents, Rebekah, Dave and Molly were emergency heli-vac'd to BC Children's Hospital that afternoon.
Once there, doctors immediately began work on little Molly, and tested her bone marrow and spinal fluid to find out more about the type of leukemia that was growing. She needed multiple IVs to carry medicine and fluids. Because Molly's baby hands and arms are so tiny, doctors needed to perform emergency surgery to insert a tube directly into her chest for the IVs. Before the surgery, Dave and Rebekah held their tiny infant and said their goodbyes; the staff had told them how serious this was and knew they may never hold her chubby little hands again.
Molly stabilized after surgery and the doctors started her on steroids, the first stage of a long and painful chemotherapy regime designed to try to eradicate the leukemia that filled Molly's body.
This being Christmas Day, Dave and Rebekah used Skype to watch as their other children, confused about what was going on, open their presents under the tree. Dave told a friend he did not even know where they were in Vancouver, as they had been brought in by helicopter. Dave and Rebekah were so scared that every moment would be their last with Molly that they had not even been to the cafeteria in the hospital after living in Molly's room for two days. They were too afraid to leave Molly for even a few minutes.
Molly was the youngest leukemia patient they had ever seen at the hospital. Cure rates for leukemia have made huge advances in the past 20 years. However, Molly's leukemia has the genetic markers of a much more difficult leukemia to treat. This, along with her very young age, makes this an uphill battle.
When Molly's doctor met with Dave and Rebekah on Boxing day, he told them that Molly will need to stay at B.C. Children's hospital for at least six months, and probably longer. Dave or Rebekah must be in the room with Molly around the clock to help care for her.
For Dave and Rebekah, exhausted and still in shock that their new baby was close to death, this means hard choices for 2011. Molly has four brothers and sisters under the age of 7.
Dave has always worked for local credit unions, and has supported his family on one income. The family has gotten by by being frugal and making smart financial choices. They don't take trips or buy their kids the newest and fanciest toys. Long ago Dave and Rebekah made the decision that they were willing to live a modest life in exchange for the gift of a big happy family. Although family and friends will be able to help shoulder some of the financial burden, Molly and her parents need your help. The family will have to set up a residence in Vancouver for the coming months, and pay for the many trips back and forth to the mainland. It is unlikely that Dave will be able to work, as the four children still need full time childcare outside of the hospital where Dave or Rebekah need to stay with Molly.